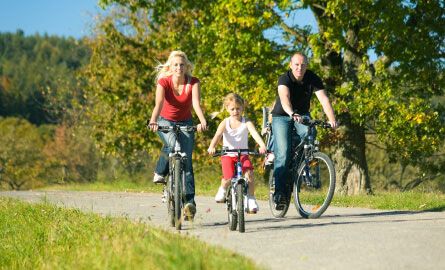 For All the Right Reasons
Most of us focus on losing weight for one reason alone: to look good. We forget to focus on the more important benefits of weight loss such as improved health, reduce blood pressure, reduced risk of diabetes, improved cardiovascular health, and even reduced risk of many types of cancer. Instead of spending time focusing on the visual appeal of weight loss, we should focus on the fact that making healthier choices can allow us to live longer so we can live to see our grandchildren grow up.
It can be hard to shed those pounds, especially if you are not the type to hit the gym. However, working out at the gym is not the only means of exercising. Fitting exercise in your routine can be easily accomplished once you open up your options.
With the warm weather, you can always choose to exercise outdoors. Try heading out earlier in the morning, or later in the balmy afternoon to minimize skin damage due to sun exposure exercising outside can have its benefits as weight loss becomes more natural, and muscles can form naturally and steadily. The great part of exercising outdoors is the fact that it does not have to be overly strenuous nor does one have to exercise solo. True, you can bring friends with you to the gym, but if you're a parent you would know that children are not normally allowed in gyms. Choosing to participate in outdoor activities such as hiking, rafting, gardening, and games such as tag and hide n' seek to allow you to get the whole family involved. This also provides you with an opportunity to spend time with your family while enjoying the outdoors.
There are plenty of outdoor activities and exercises you can take part in to create a healthier lifestyle. Whether it's skiing, cycling, swimming (which you can do indoors too), running, or even ice skating, they are great ways to help promote weight loss, and more importantly, they are also enjoyable! The list never ends with outdoor activities, so you might as well open that door and see the whole world as your backyard.
You may be wondering how to incorporate physical activity in your routine if you have an office job or if you are traveling. If you receive breaks during your shift, take a walk outside if the weather permits, or wander the building. If you decide on the latter, you might as well say hello to your coworkers and spread some positivity. After all, socializing has found to have positive effects on stress levels, and stress is never good for the health, let alone weight gain. Even if you don't partake in many activities, a little exercise throughout the day is much more preferable than none. If you are traveling, chances are you will be taking tours to explore popular sites, or visiting museums as most travelers do. If you weren't planning to, you should consider these activities as a way to help you learn more about the place you are vacationing in and also allow you to walk which when done for longer periods of time, make up for your missed exercise.